Taste of The Town: The ultimate blast from the past at News Cafe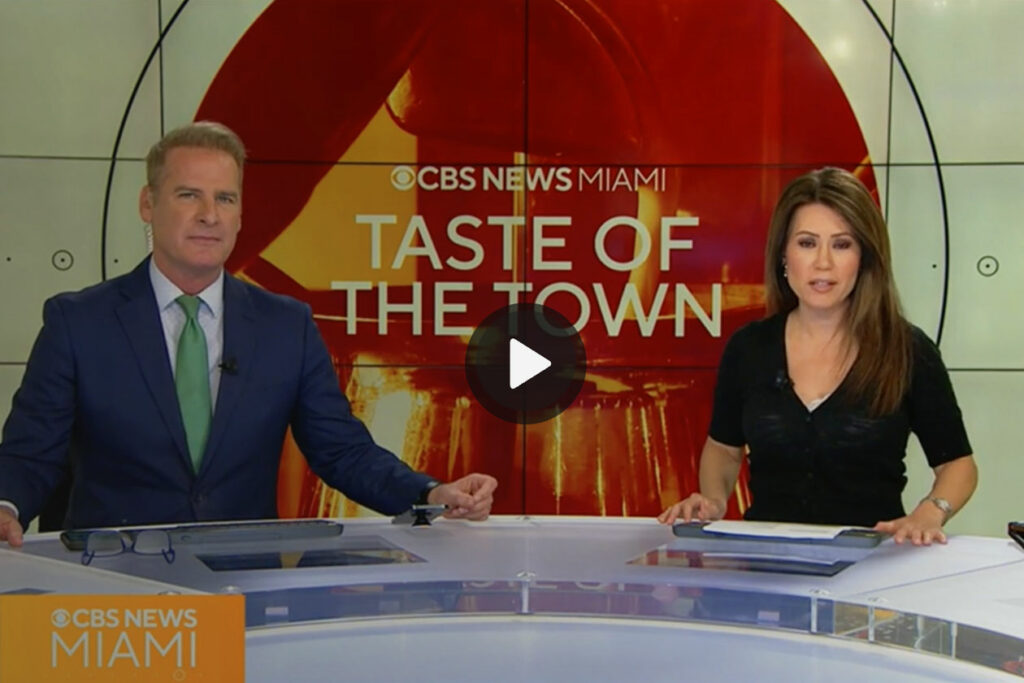 MIAMI BEACH – It's the ultimate blast from the past at the newly reopened iconic News Cafe located on the ground floor of The Tony Hotel on Ocean Drive on Miami Beach.
The restaurant was the brainchild of famed restaurateur Mark Soyka who opened it in 1988, as one of the only restaurants in Ocean Drive's Art Deco District.
"It's about preserving history, " said Scott Srebnick, CEO of Goldman Properties, who owns The Tony Hotel and bought the News Cafe brand from Soyka when it closed during Covid in 2021.
The plan was whoever was to run it had to make it News Cafe.
"So we wanted to be part of the solution of the next resurgence of Ocean Drive and we want to do that by actually reclaiming its history. And that's why we decided to reopen it as News Cafe," Srebnick said.
Walking through the freshened up, yet familiar space it's clearly an homage to its storied past.
It was, after all, the first restaurant on Miami Beach to be open 24 hours.
"It was synonymous with the Art Deco District and partially because it was really the only game in town," he said.
It's truly a step back in time with photo memories.
"I mean, I'm seeing the history of Miami Beach right here," said CBS Miami's Lisa Petrillo looking at the old photographs on the walls. "This was the 90's over there and then you have Don Johnson during the 80's for Miami Vice right there."
"There's Johnny Versace on the wall right over here," said Srebnick.
Yes, News Cafe was a favorite of the late designer and is marked in history as the last place Versace visited before he was killed on the steps of his home just down the street.
"He would come here every morning to get his newspaper because one of the hallmarks of the place was that it offered newspapers from around the world," he explained. "So Johnny Versace would come here and grab his newspaper and then walk back to his mansion. And that's what happened on the day of the fateful incident."
The restaurant is operated by Vida and Estilo Restaurant Group manned by corporate chef Alex Martinez who prepares the tasting dishes with an America meets The Mediterranean menu.
"A lot of people get nostalgic when they come here. They say, 'Oh, my gosh. I haven't been here in 20 years. I remember how this place used to be'," said Martinez.
"So we see it and a lot of people are very happy with the little couple of tweaks that we've made, but still trying to keep it true to the old place that it used to be."
Classics like Tony's Tomato Soup served with a side of grilled cheese. It hits the spot.
"It's just like a warm hug even on a hot day," said Petrillo, after tasting.
As does the mouthwatering Chicken Parmigiana where the melted cheese is served on top tableside.
"I mean, you nailed it," said Petrillo. "It's crispy, which is why that cheese comes on later making it melty and then it's super tender on the inside."
There's also a new brunch item served all day until 4 p.m. It's Pina Colada Pancakes with grilled pineapple, coconut sauce & house toasted coconut.
"There's a lot going on, but it's not heavy at all. You have so many different flavors and textures. It is really like a dessert pancake, " said Petrillo.
News Cafe serves up history, headlines, and nostalgia 7 days a week for breakfast, lunch, and dinner.