Pineapple-Banana Salad & Coconut Granola

Cottage Cheese Bowl (v)

12

Local Honey, Dates & Roasted Pistachio

Seasonal Fruit Platter (v)

14

Chefs Selection of the Season Freshest Fruit, Honey & Blueberry Yogurt
The Three Stooges

Prosecco, Ancho Reyes Verde, Passion Fruit

Fleur De Rose

Harry Blu's Gin, Prosecco, Lychee, Rose Blend

Tropical Paradise

Prosecco, Liquor 43, Mango, Lemon Juice
Green Lover

Spinach, Kale, Celery, Green Apple, Cucumber, Lemon

Unbeetable

Beet, Pinneapple, Carrot, Cucumber, Ginger, Lemon

Sunset

Carrot, Orange, Apple, Lemon, Ginger, Tumeric
NEWS CAFE BLOODY MARY'S
15
The Paper Boy

Albany Vodka, Q Bloody Mary Mix, Sweet Chili Sauce, Lemon Juice

Maria

El Jimador Blanco Tequila, Ancho Reyes Verde, Green Maria Blend, Tomatillo, Lime Juice, Agave Nectar
Beauty & The Pink

Q grapefruit soda, Rose Reduction, Citrus, Strawberry, Cucumber

Gold Standard

Pineapple, Lime, Tropical Redbull, Mint, Cranberry

Kiddie Mule

Lychee, Lime, Ginger Beer
American draft beer and your choice of red bloody mix or green maria blend.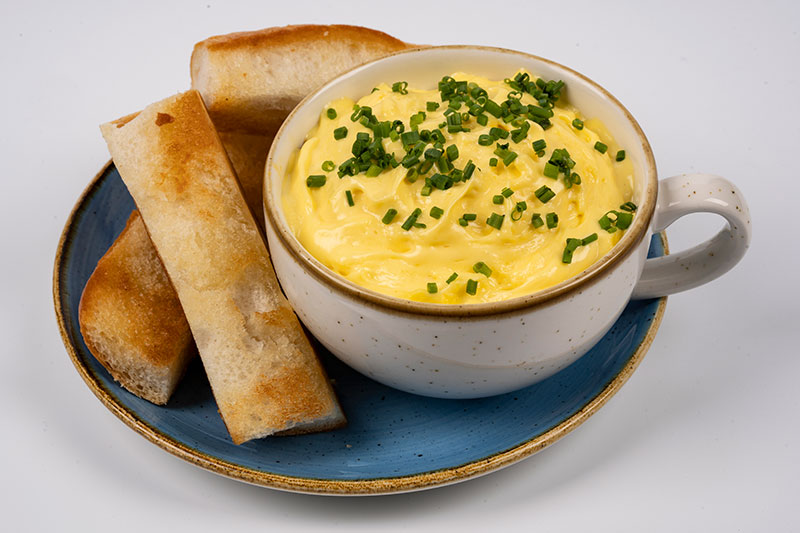 ☆ News Cafe Big Breakfast*

18

2 Eggs Any Style, Choice of Crispy Bacon or Sausage Links, Crispy Home Fries & Buttery Toasted Cuban Bread
Soft Scrambled Eggs, Crispy Bacon, Hollandaise Foam & Cuban Tostada
Scrambled Eggs, Chorizo, Bacon, Cheddar, Avocado, Pico de Gallo & Roasted Jalapeno Crema with Breakfast Potatoes
Grilled Scallion Cream Cheese, Pickled Onions & Soft Boiled Egg
☆ Ocean Drive Bacon, Eggs & Cheese Sandwich

16

Cuban Bread, Thick Bacon, Cheesy Eggs, Local Coffee Mayo & Breakfast Potatoes
Center Cut New York Steak, Two Eggs any style, House Potatoes, Baby Arugula, Served with your Choice of Toast
☆ Salmon & Avocado Omelet*

21

3 Egg Omelet Filled with Smoked Salmon, Avocado, Asparagus, Green Onion & Boursin Cheese, Served with House Potatoes & your Choice of Toast
›› CREATE YOUR OWN OMELET 18 ‹‹
3 eggs omelet filled with your choice of two
ingredients from the following options:
› Meats: Ham, Bacon, Sausage & Smoked Salmon
› Veggies: Tomato, Bell Peppers, Onion, ushrooms & Jalapenos
› Cheeses: Swiss, Cheddar & American
› Add any other. *Additional fillings 1.5 each
Thick Cut Multigrain Toast, Greek Olive Oil, Cotija Cheese, Cilantro & Tijuana Salsa Matcha

Thick Cut Multigrain Toast, Whipped Ricotta, House Seasonal Jam & Roasted Almonds

Cafe Con Leche French Toast (v)

16

Colada Syrup, Vanilla Whipped Cream & Local Bananas
CLASSIC FRENCH TOAST AVAILABLE UPON REQUEST
French Ham & Cheese Croissant

15

French Bistro Ham, Aged Swiss & Black Truffle Mayo
Piña Colada Pancakes (v)

16

Grilled Pineapple, Coconut Sauce & House Toasted Coconut
CLASSIC PANCAKES AVAILABLE UPON REQUEST
House-Made Malted Waffle, Confectioner's Sugar & Whipped Cream
Waffles Topped With Crispy Chicken, Hot Honey Maple Drizzle, Green Onion & Gold Dust
☆ Green Chilaquiles (v)

16

Oaxaca Cheese, Tomatillo, Heirloom Corn, Hass Avocado & Cotija Cheese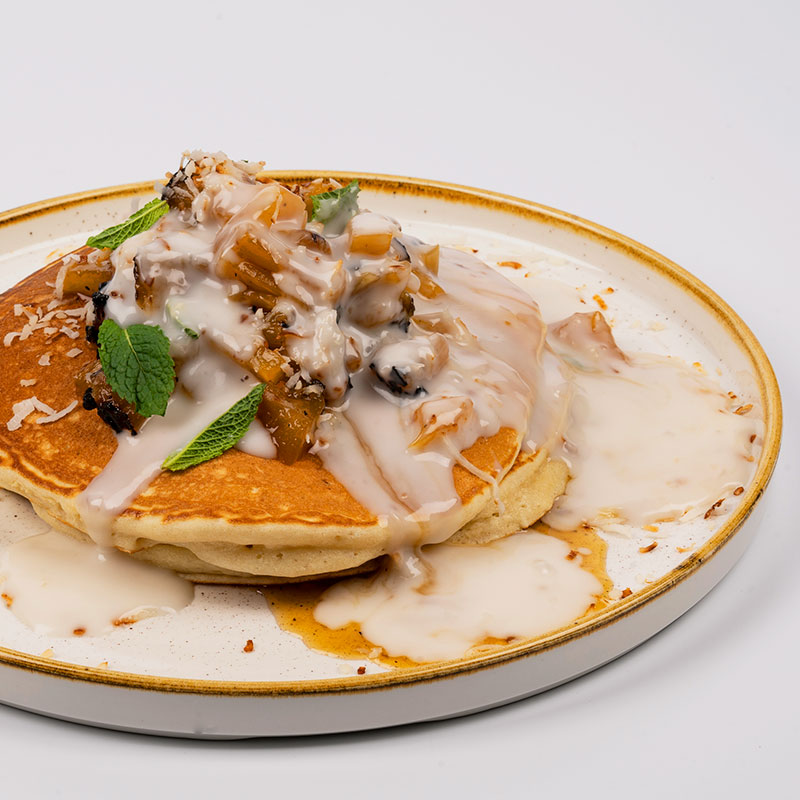 Local Florida Guava & Coca Cola Sauce

Slow Stewed Tomatoes and Peppers with a Perfectly Poached Egg on Top, Seasoned with a Toasted Blend of Oregano, Sumac & Sesame Seeds, Served with Local Cuban Toast Points
☆ Agean Mediterranean Plate

20

Hummus, Babaganoush, Tzaziki, Soft Boiled Egg & Toasted Cuban Bread
Served with Fries or Salad
Fried Organic Chicken Thighs, Carolina Gold & House Pickles, Served on Cuban Burger Bun

Thick Nueske Bacon, Romaine, Fried Rosemary Mayo & Local Tomato, Served on Sourdough Bread
House Sauerkraut, 91 Island Sauce & Swiss Cheese, Served on Rye Bread

French Bistro Ham, Swiss, House Pickles & Dijonnaise, Served on Cuban Bread
Harry Blu's Vodka, Lillet Rose, Lychee Rose Blend, Lemon Juice

Herradura Blanco, Pamplemouse Giffard, Sour AF, Ancho Reyes Verde, Agave

Bacardi Superior, Sour AF Lime, Mint

Pineapple Under the Sea

17

Pineapple Infused Tromba Blanco & El Silencio Mezcal, Mandarine Napoleon, Lime Juice, Agave, Smoked Chili Bitters

Patron Blanco, Pomegranate, Agave Nectar, Fox Mastiha, Lime Juice
Santa Teresa 1796, Remy Martin 1738, Guanabana, Lime Juice, Lemon Juice, Vanilla
Hendriks, Mediterranean Tonic, Strawberry, Star Anise, Cucumber

Grand Marnier, Liquor 43, Espresso, Orange Bitters
The Old South Beach Colada

(Special Hurricane Glass)
Flor De Cana 4, Giffard Banana Liquor, Pina Colada Blend, Mamey Pulp, Amaro Montenegro

Frozzie Rossie

Smoke Lab Vodka, Citrus Slush, Rose Wine, Peach Schnapps, Guava Puree, Grapefruit
Vesper

Fords Gin, Organika Vodka, Lillet Blanc

Classic

Bombay Dry, Martini Rossi Dry Vermouth

Shaken Not Stirred

Organika Vodka, Martini Dry Vermouth, Lemon Juice Twist

El Sucio

Choice of Harry Blu's Gin or Vodka, Olive Brine

Martinez

Bombay Dry Gin, Carpano Antica Formula, Luxardo Maraschino
Woodford Reserve, Angostura Bitters, Demerara

Jack Daniels Rye, Remy Martin 1738, Martini Rossi Sweet Vermouth, Dom Benedictine, Peychaud's

Titos, Q Ginger Beer, Lime Juice

Jack Daniels Rye, Martini Rossi Sweet Vermouth, Angostura Bitters

Old Forester 86, Campari, Martini Rossi Sweet Vermouth

Old Forester, Mint, Demerara, Lime
Heineken
Lagunitas IPA
Funky Budha Floridian
Estrella Damm
La Rubia
Fat Tire Craft Beer
Peroni
Bud Light
Goose IPA
VezaSur La Yuma Amber
Espresso with Steamed Milk

Espresso with Steamed Milk & Foam

Espresso Coffee, Equal Part of Milk & Foam
Espresso, Chocolate & Steamed Milk

Espresso, Chocolate, Milk & Ice
*Milk Options: Skim | Almond | Oat | Soy +0.50
A 20% service charge has been added to your bill.
*Raw, undercooked and barely cooked foods of animal origin such as beef, eggs, fish, lamb, milk, poultry or shellfiish increases
the risk of foodborne illness. Individuals with certain health conditions may be at higher risk if these foods are consumed raw
or undercooked. May be served rare.