Gianni Versace's favorite South Beach restaurant reopens after renovation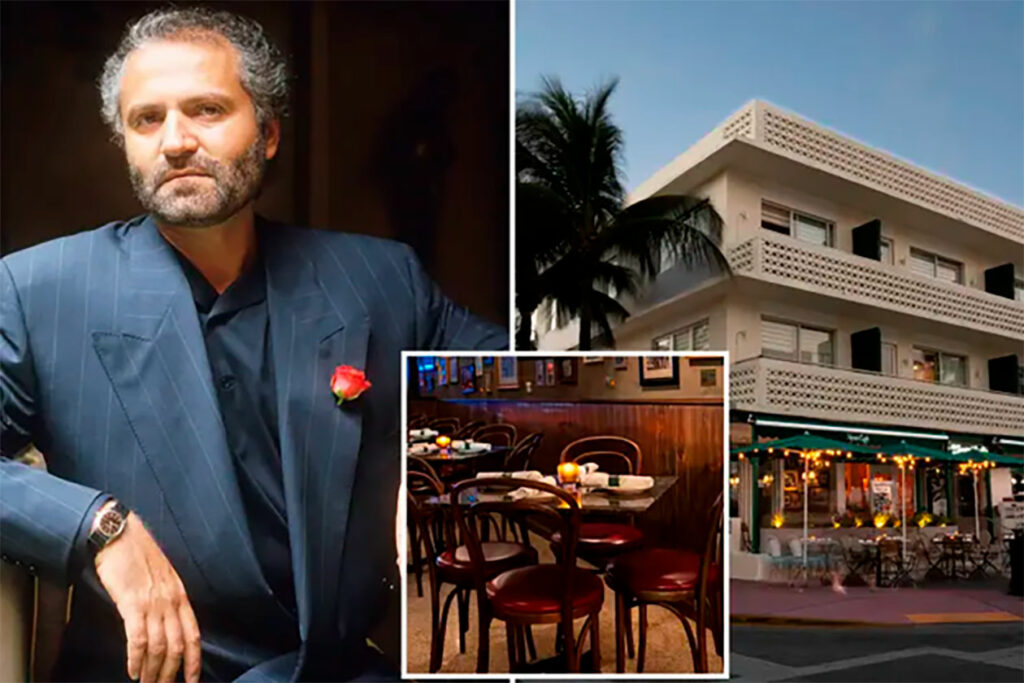 After a night out in 1990s South Beach, News Café was the A-Lister gathering place to begin the night, end it — or while away the hours in between.[/caption]
But the famed 24-hour breakfast-anytime haunt, with its namesake newsstand of newspapers and magazines, hit headline news itself when it was revealed as the last place the late fashion designer Gianni Versace visited before he was gunned down on the steps of his nearby Miami Beach mansion on July 15, 1997 by spree killer Andrew Cunanan.
News Café, just like South Beach and Versace's empire, survived and thrived.
And after a brief shuttering for renovations, the restaurant reopened at the beginning of March — more than 30 years after renowned Manhattan and Miami club owner and restaurateur, Mark Soyka, first opened its doors in 1988 in the then-dilapidated South Beach district.
The restaurant was a landmark in the 1980s South Beach groundswell led by Soyka's close associate and friend, the late New York-based Goldman Properties founder Tony Goldman, who spearheaded a renaissance in South Beach — after heading similar historic building adaptive restoration work that revitalized New York City's Soho.
The News Café is located on the ground floor of The Tony Hotel, a 1930s Art Deco landmark, and one of many historic properties Goldman lovingly restored — turning South Beach into a design mecca.
In 2021, Goldman Properties acquired the News Café brand and partnered with Vida & Estilo Restaurant Group to oversee its reopening and management. (Coincidentally, Vida & Estilo opened the first restaurant of its Oh! Mexico Taco Shop chain the year Versace was murdered — it's now one of South Florida's largest hospitality groups, with 19 eateries in Miami and an additional three in Las Vegas.)
Jamil Dib, founder and co-owner of Vida & Estilo Restaurant Group, said The News Café was a big inspiration to him.
"It was the American Dream," Dib told The Post. "I used to walk by at night watching the people sitting there. It was full of top supermodels, people from the movie, music and fashion industries. You'd see Madonna — and Versace would go in for his eggs Benedict."
For Dib, this is more than just another restaurant opening, he has willingly taken on an icon and its legacy — and carefully, too, deliberately keeping the interior's now-vintage feel.
"We had to redo the whole place, but also try to keep the essence," he said. "It would have been easier to knock it all down, but we kept the same tin ceiling, the same flooring, the same walls. What needed fixing, we fixed."
The same almost goes for the original menu.
Local chef Henry Hané, founder of Brickell's popular B Bistro, was charged with both updating the menu and keeping beloved classics, like the semi-legendary Tony's tomato soup.
"[Tony's daughter] Jessica just tried it and she loves it. We ask the right people what they think, the old regulars know best," said Dib. "But Henry puts his own take on some dishes — like the eggs Benedict. He serves them in a cup, deconstructed. Just dip the bread in the egg — it's fantastic … The French toast … You can't just have one. You just want to keep eating and eating more."
All which won't help today's supermodels stay svelte.
Party goers will have to forego the cafe's legendary after-clubbing carb binge: the restaurant won't be open 24 hours — not just yet, but it's something Dib is looking into. For now, it's three squares, and an elaborate coffee and tea service.
The newsstand still has newspapers and magazines, but not like it once did. Diners can also scan a QR code and download newspapers to their phones or tablets. The younger generation Dib hopes to attract just aren't familiar with the ancient craft of reading from paper.
"I had to show my kids how to read a newspaper," Dib quipped.
Dib wants new customers to understand the restaurant's legacy, though, so the main wall's gallery of around 100 photos and memorabilia — including a photograph of Versace — adds QR codes linking to short videos explaining who's who, and what was what.
"From 1988 to now," Dib said. "It's a road map, and a work in progress."
Dib never met Versace — "He was already a big star in the fashion world and I was still washing dishes," he said
Dib said the day Gianni Versace was killed as he went about his favored morning routine of stopping by the News Café still haunts him.
"It was shocking, ugly, and sad," he said. "But there are so many good memories in this place. The News Café was essential to South Beach's revival. This is a mission. Sure we are here to make money, but this is also for our community."